What is a Robotic Hysterectomy?
If you are facing a hysterectomy for a benign gynecologic condition, the da Vinci® procedure may be an option for you. This procedure is the least invasive hysterectomy available.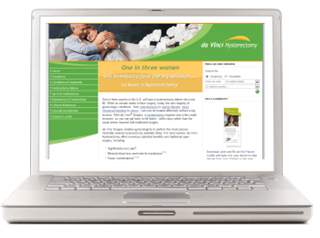 At Professionals for Women's Health, our staff is highly trained in performing robotic hysterectomies in order to safely remove benign growths from the uterus. If you would like to discuss this option with your provider, please schedule a consultation with a member of our staff at our facility in Columbus, OH, today.
What Are the Benefits of A Robotic Hysterectomy?
Thanks to medical and technological advances, a hysterectomy doesn't have to be the highly invasive process it was in years gone by. At Professionals For Women's Health, we know that getting a hysterectomy can be tough to come to terms with, and want to assure your anxieties by using an advanced, effective, and reliable technique. Benefits of a robotic hysterectomy in Columbus, OH include:
Significantly less pain versus a traditional hysterectomy
Minimal blood loss and need for transfusion
Fewer complications
A shorter hospital stay
Quicker recovery and return to normal activities
Smaller incisions for minimal scarring
Better outcomes and patient satisfaction, in many cases
Reviews
"This is the most wonderful place! Everyone is friendly and professional. I see Lindsay Randolph who is awesome and always make sure I get the best gyno care. I have to give a special shout out to Cathie who did my mammogram this last visit. This was year 11 for mammograms for me, and I always dread it because it is usually extremely uncomfortable and a bit painful. This time was completely painless. I don't know how she does it, but I will never schedule these with anyone else! I recommend anyone looking for new services for women's health absolutely visit Professionals for Women's Health."
- W.S. /
Google /
Nov 07, 2020
"Everyone here was AWESOME!!! I went in for one thing and they ended up helping me out and we did my complete wellness exam. Cathie made the mammogram painless and quick. They were my doctors when I gave birth to my daughter 6 years ago and still just as professional today. Plus they were able to me quickly."
- K.G. /
Google /
Oct 29, 2020
"I've always had great experiences here. Everyone has been supportive and authentic from the front office and nursing staff to Dr. Rahl. My recent onsite mammogram with Cathie was awesome - no pain or discomfort at all."
- K.A. /
Google /
Oct 22, 2020
Previous
Next
Am I a Candidate for a Robotic Hysterectomy?
Typically, women might need a hysterectomy if they have uterine fibroids, endometriosis, uterine prolapse, abnormal vaginal bleeding, or cancer in their uterus, cervix, or ovaries. However, some patients may not be an ideal fit for a traditional hysterectomy, depending on their medical history, such as if they have surgical scars or other irregularities within their pelvic organs. In these cases, and in many others, we recommend for women to receive a robotic hysterectomy.
How Does Robotic Hysterectomy Work?
Before the procedure can begin, we'll ask the patient to lie down comfortably on their back in a similar position to when they receive a Pap test. In some cases, a urinary catheter may be used to ensure the bladder is completely empty. At this point, a member of our team will sterilize the area, and we'll provide the patient with an appropriate dose of anesthetic. Once it begins to take effect, the surgeon will make five small incisions into the abdomen, which are about the size of a fingertip. We will then use these incisions in order to insert our surgical equipment.
The surgeon will sit at the nearby da Vinci console, where they can see inside the body and control the equipment remotely. This gives them 3D views that are magnified 10x larger than what the human eye is capable of seeing, ensuring the utmost accuracy throughout the procedure. The equipment itself moves just like a human hand, though it has a greater range of motion and builtin-in tremor filtration to ensure all movements are completely smooth.
What to Expect After A Robotic Hysterectomy
Professionals for Women's Health will provide post-operative instructions for recovery, which may include information about medications and incision care. We'll also schedule a follow-up appointment to check on your progress and make everything is healing properly. Avoid strenuous workouts and set aside time to rest for the first few days following your robotic hysterectomy. Most patients are able to return to their normal routine within a short period.
Is a robotic hysterectomy better than a traditional one?
Generally, robotic hysterectomies are considered to be superior to traditional techniques. This is due to many factors, including smaller incision sizes, less pain, shorter hospital stays, and easier recovery periods.
Is a robotic hysterectomy painful?
There may be some mild to moderate pain in the weeks following the procedure. However, none of this should be severe. It's not uncommon during this time to experience some light vaginal bleeding. Patients can start walking again the day after the surgery and will be able to return to work and the rest of their usual daily activities within about 3 – 4 weeks.
How long does it take to perform a robotic hysterectomy?
The procedure itself can last anywhere from 1 – 4 hours, depending on a number of factors. This can vary due to the speed of the surgeon, the complexity of the situation, and any issues that may arise during the surgery.
How long should I take off work for a robotic hysterectomy?
Most women are able to return to light desk work about two weeks after a robotic hysterectomy, though full recovery can take about 3-4 weeks. Exercise and strenuous physical activities may be restricted for up to 6-8 weeks.
Will I have a visible scar after robotic hysterectomy?
During a robotic hysterectomy, several small incisions are made - just big enough to accommodate the laparoscopic instruments - meaning the scars are much smaller and less noticeable than those associated with a traditional (open) hysterectomy.
When can I have sex after a robotic hysterectomy?
This may vary from patient to patient depending on the specifics of the case, the patient's overall health, and other variables. On average, most women can safely and comfortably resume sexual activity about 6-8 weeks after a robotic hysterectomy.
A Safe, Precise Option for Hysterectomy
While traditional hysterectomy surgery has been fairly effective throughout its history, robotic hysterectomy with da Vinci technology simply offers a level of accuracy and control that cannot be achieved through these conventional means. If you have benign vaginal conditions that need to be removed, the team at Professionals for Women's Health is highly experienced in utilizing these revolutionary, new techniques in order to benefit our patients. Contact us to set up an appointment in Columbus, OH today.
Related Procedures
Related Posts