This page will address many of the questions which are frequently asked about mammography.
What is mammography?
Who should have a mammogram?
Where and how do I schedule my mammogram?
What is the MammoPad?
What do I need to know before my mammogram?
Mammography Reviews
"This is the most wonderful place! Everyone is friendly and professional. I see Lindsay Randolph who is awesome and always make sure I get the best gyno care. I have to give a special shout out to Cathie who did my mammogram this last visit. This was year 11 for mammograms for me, and I always dread it because it is usually extremely uncomfortable and a bit painful. This time was completely painless. I don't know how she does it, but I will never schedule these with anyone else! I recommend anyone looking for new services for women's health absolutely visit Professionals for Women's Health."
- W.S. /
Google /
Nov 07, 2020
Previous
Next
Mammography is a form of X-ray. The procedure involves passing low doses of radiation through the breast tissue. This method is a good way to detect growths before they are large enough to be detected during your self-breast exam. Many growths are hard to palpate because they may be deep in the breast tissue. The early growths are found, the easier they are to treat. This test may be ordered as a screening tool or if a growth was found during a physical exam. The mammogram is read by a doctor specialized in X-ray.

There are two types of mammograms, screening and diagnostic. A screening mammogram is performed to detect a problem early on, but the patient has no signs of a problem. A diagnostic mammogram is ordered when the provider detects a problem and includes additional views. Mammograms are done at our Columbus location.
Who should have a mammogram?
The American College of Obstetricians and Gynecologists recommend women ages 40 and over should have a mammogram every year. All women need to have a mammogram regardless of the size of their breasts, whether or not they have implants, or whether or not they have had a breast reduction. Your provider may recommend a mammogram earlier if you have certain risk factors. These risk factors include, but are not limited to:
A sister, mother, or daughter who has had breast cancer.
You have had breast cancer before.
Have never had children.
Early menstruation
Late onset of menopause
Your provider may order a diagnostic mammogram if you have any of the following symptoms:
Unexplained growth or thickening area in the breast of armpit tissue.
Dimpling of the skin on the breast.
Any type of abnormal discharge from the breast.
A recent change in the characteristics of the nipple or skin on the breast.
Where and how do I schedule my mammogram?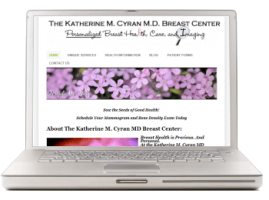 Our office offers screening mammograms at our Columbus (Jasonway) office. These can be scheduled separately or with your annual exam. We can do mammograms between 8-3:30pm. You may also schedule with our mammographer on Thursdays between 10:00am-5:40pm. Please call to schedule today!

Dr. Kathryn Cyran, director of the Kathryn M. Cyran MD Breast Center is our reading radiologist. Mammograms are preformed by tech specialists from The Center.

The best time to schedule your mammogram appointment is the week following your period. This will reduce the likelihood of inflammation and breast tenderness.

Please note if you have detected a growth or any breast symptom, please call our office as soon as possible for evaluation by a provider.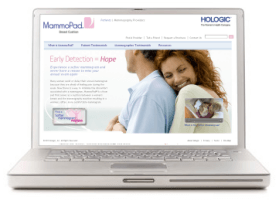 PWH offers patients the option of the MammoPad®, a single-use breast cushion as a soft, warm protective surface between your breast and the mammography machine. This will significantly increase the comfort of your routine screening mammogram.

The MammoPad® has been approved by the FDA and three out of four women report a reduction in discomfort by 50%. There is a $10.00 fee for the Mammopad®, paid at the time of service. Insurance does not cover this product. You can learn more about the MammoPad® at www.mammopad.com.
What do I need to know before my mammogram?
Your insurance company will only allow a screening mammogram once a year. Medicare only allows one every two years. Please contact your insurance company for more information.
If you have implants please tell our scheduler.
If you have a lump or breast problem, please schedule a visit with your provider instead of a mammogram.
Plan to wear a 2-piece outfit. Have your hair pulled back away from your face in order to avoid hair artifact on the film. And be prepared to remove any earrings that hang.
Avoid deodorant, lotions, and powders under the arm and on the breast prior to your mammogram.
You can reduce you risk of experiencing pain before you have your mammogram, especially is breast tenderness is an issue for you. Simply take an ibuprofen or acetaminophen tablet two hours before your appointment.
Be aware that you should eliminate or considerably reduce you intake of caffeinated beverages and chocolate 5 to 7 day before your scheduled appointment. There is evidence to suggest that caffeine leads to more discomfort during compression of the breast while a mammogram is performed.
Be prepared to bring any mammogram films previously done with you to your appointment, especially if they were performed at a different facility. If this is not possible, it is imperative that you at least have the name, address, and phone number of the prior facility, so that we can have them sent to us. This will avoid any delays in the diagnosis of your current exam.
Related Procedures
Related Posts