Lactation and Breastfeeding
Professionals for Women's Health partners with Christina Harter, R.N., a graduate of St. Mary's School of Nursing, and a certified lactation to help you with lactation, breastfeeding, and other infant feeding and care issues. Mrs. Harter offers instruction on breastfeeding (either ante or postpartum). She also can talk to you about problems you face as a new mother. You can schedule an appointment by calling us and setting an appointment.
Reviews
"This is the most wonderful place! Everyone is friendly and professional. I see Lindsay Randolph who is awesome and always make sure I get the best gyno care. I have to give a special shout out to Cathie who did my mammogram this last visit. This was year 11 for mammograms for me, and I always dread it because it is usually extremely uncomfortable and a bit painful. This time was completely painless. I don't know how she does it, but I will never schedule these with anyone else! I recommend anyone looking for new services for women's health absolutely visit Professionals for Women's Health."
- W.S. /
Google /
Nov 07, 2020
"Everyone here was AWESOME!!! I went in for one thing and they ended up helping me out and we did my complete wellness exam. Cathie made the mammogram painless and quick. They were my doctors when I gave birth to my daughter 6 years ago and still just as professional today. Plus they were able to me quickly."
- K.G. /
Google /
Oct 29, 2020
"I've always had great experiences here. Everyone has been supportive and authentic from the front office and nursing staff to Dr. Rahl. My recent onsite mammogram with Cathie was awesome - no pain or discomfort at all."
- K.A. /
Google /
Oct 22, 2020
Previous
Next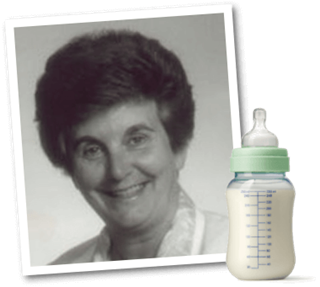 Christina Harter, RN, CLE provides professional counseling in infant feeding and infant care. She is a Certified Lactation Educator. Mrs. Harter graduated from St. Mary's Hospital School of Nursing and attended Marshall University. She helped establish The Ohio State University Medical Center's lactation services and has appeared on ABC-TV's "Good Morning America" as a national infant feeding expert.
When Mrs. Harter joined Professionals for Women's Health in 1996, she brought 28 years of nursing experience in pediatrics, public health, and OB/GYN. She has been honored as an outstanding patient educator, is recognized by Who's Who in American Nursing, and is a frequent speaker at national conferences. Mrs. Harter lives near Hilliard with her husband. They have two children and three grandchildren.
What Types of Counseling does Mrs. Harter Provide?
Infant Feeding Counseling Services
Infant Feeding concerns and questions are very common during the first days at home. Among them:
"Is the baby getting enough or too much?"
"Am I holding the baby right?"
"How do I make the baby burp?"
"Am I making the formula right?"
Offers comprehensive counseling and instruction to answer all of your questiona about these and other elements of infant feeding and care:
Breastfeeding
Instruction in collecting, storing and transporting breast milk (especially helpful for working mothers)
Bottle feeding (formula preparation, positioning)
Prevention and treatment advice for engorgement, sore nipples, and mastitis
Breast Pump Rentals/Sales and other accessories available for purchase

Electric breast pump sales and rentals
Battery/mini-electric breast pump sales and rentals
Manual breast pump sales and rentals
Breast cups/shells/shields
Supplemental nursing systems
Formula preparation
General Infant Care and Care for Special Babies
In addition to feeding advice, you can trust Chris' professional advice on
baby bath
cord care
circumcision care
taking the temperature
general assessment.
Feedback will be given to the physician or clinic making referrals, upon client or physician request.

She can also offer help with special babies:
premature infants
babies with Down's syndrome
babies with cleft palate/lip
Caring, knowledgeable help is just a phone call away to Chris Harter, RN, at 614-878-5266
Can I get Chris for a speaking engagement?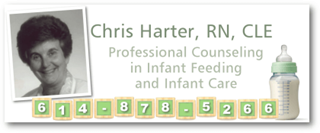 Chris Harter, RN, is available for professional speaking engagements on infant feeding and other infant care topics.

She has addressed these subjects at numerous locations across the country and welcomes the opportunity to speak to your group or organization.

Call Chris at (614) 878-5266 for more information.
Related Procedures