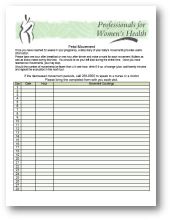 Please click on the graphic at your left to download print out the Fetal Movement chart and complete it as directed below.

Please take one hour after breakfast or one hour after dinner and make a mark for each movement (flutters as well as kicks) noted during this time. You should lie on your left side during the entire time. Once you have reached six movements, you may stop.

Should the number of movements be fewer than 4 in one hour, drink 6-8 oz. of orange juice, wait twenty minutes and repeat the evaluation in the next hour.

If the decreased movement persists, call to speak to a nurse or a doctor.

Please bring the completed form with you each visit.